Stair safety and dementia are a big concern for many families living with a diagnosis. As a stairlift company in Liverpool, we meet a lot of families affected by a diagnosis of dementia. We also recognise that staying at home, in a familiar setting, is of vital importance to the individual.  Supporting the independence of the person living with dementia is crucial to their well-being. And it can also help to manage the symptoms of the disease.
By understanding dementia and the needs of each individual family, we work together to ensure we're providing the best advice we can. This way we can find the most suitable solutions for you. And this means that people living with dementia can stay at home safely for as long as possible.
WHAT IS DEMENTIA?
Dementia happens because of changes to the brain caused by disease, for example, Alzheimer's disease or recurrent strokes. These diseases result in a common set of symptoms such as memory loss or problems with thinking and problem-solving. This can make day to day life challenging, confusing, and sometimes frightening.
The type of symptoms, and the extent of them, varies from individual to individual. But there is professional, charitable, and community support available to help manage the symptoms and reduce the impact on daily activities.
HOW CAN DEMENTIA AFFECT MOBILITY?
Because there are different causes of dementia, people are likely to show different symptoms in different ways. Here we've put together some common symptoms related to dementia that could affect getting around the house safely:
Vision and perception
In some cases, dementia can affect a person's ability to interpret the things they see. This could mean having difficulty judging how far away an object is or struggling to distinguish between an object and its surroundings. Problems with visual perception in dementia can affect how confidently a person can navigate their home, including the stairs.
Co-ordination
Changes to physical coordination are called apraxia. Apraxia occurs when messages from the brain to the muscles of the body are interrupted or distorted.  Apraxia can make even a simple sequence of actions, like placing one foot in front of the other to walk, can become a complicated challenge.
Weakness
If a person is diagnosed with vascular dementia, then they may experience weakness and paralysis in their limbs. This is due to small but frequent strokes, and they can lead to restricted movement. This weakness may result in losing control over fine motor movements, like writing with a pen. Or gross movements, like lifting an arm or leg. Reduced movement can also affect balance, leaving an individual at greater risk of falls.
Slow, stiff movements
Dementia can result in 'parkinsonism'. This doesn't mean the person has Parkinson's disease but rather shares similar symptoms, such as tremors, stiffness, and slowness of movements. This inability to move quickly can pose a higher risk of tripping due to a shuffled walking style. It can also mean you're less reactive to preventing a fall, leaving you at greater risk of injury.
CAN PEOPLE WITH DEMENTIA USE A STAIRLIFT?
Stair safety and dementia are an absolute priority. Individuals living with dementia will be assessed on their ability to use the stairlift independently and with support. Consideration will also be given to their current presentation. Dementia presents differently at different stages so stairlift usage may need to be reviewed routinely should concerns arise.
IS THERE ANYTHING ELSE I CAN DO TO MAKE STAIRS AT HOME SAFER?
If you would like to minimise risks related to climbing the stairs for yourself or a loved one, we've put together some practical suggestions that should help to increase stair safety:
Remove tripping hazards
Don't leave things like shoes or bags on the hallway floor, or items on the stairs or landing that someone could trip over. Secure carpets and remove rugs.
Reduce the need for trips upstairs
Bring commonly used items downstairs. This will help to reduce the frequency of visits upstairs. It also helps reserve stair climbing or stairlift use for essential journeys, like going to bed, only.
Improve the visibility of the stairs
You might want to consider options for making each step stand out. This should help people with visual difficulties, to distinguish between separate steps. Adding a bright durable tape to the edge of each step could help someone to approach the stairs with more confidence, and less hesitation.
Add a ramp or stairlift to external steps
If you have stairs that provide access to the outside of the property, adding a ramp or installing an external stairlift could be a helpful solution.
Improve lighting
Adding brighter lights at the top and bottom of the stairs will help to improve the visibility of the stars, or stairlift controls.
Add handrails and bannisters
An affordable option, handrails and bannisters give more opportunities to reach out and grab support in the instance of a fall.
Halton Stairlifts will never recommend a stairlift to any customer if we feel that it is not a safe or suitable option for them. And we're happy to provide a no-obligation quote to anyone curious about installing a stairlift. If you're concerned about stair safety and dementia, speak to the team on 0800 644 7766 to find out whether a stairlift is the best solution for you.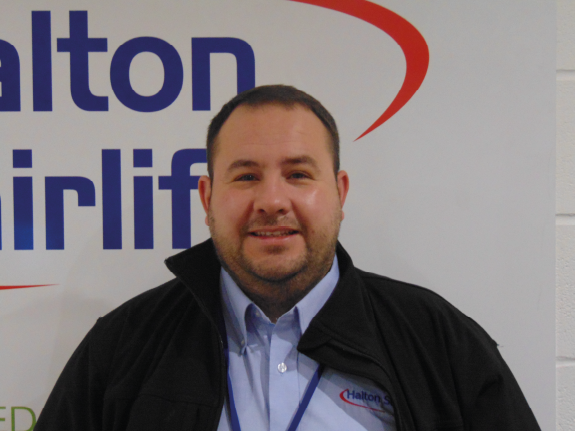 Neil is the founder of Halton Stairlifts. He has years of experience installing stairlifts across the UK. With an eagerness to help those with mobility issues get up the stairs, Neil understands how important it is for a seamless and straightforward approach to installing stairlifts to help those in need quickly.