If climbing the stairs is taking a lot longer than it used to, or each step causes you pain or leaves you feeling unsteady, buying a stairlift might be a fantastic solution. When it comes to investing in a stairlift, you'll probably have lots of questions. From 'how much does a stairlift cost?' to 'how do I choose a stairlift?' and 'Are stairlifts safe?' you can be fully informed to help you make a decision.
Stair safety is a paramount consideration for the team at Halton Stairlifts. And, before we look at whether stairlifts are safe, there are a few things we need to consider about the potential stairlift user first.
To reduce the risk of falling or injury and increase the safe use of the stairlift, the user must:
be able to stand independently, bear their own weight, and be able to pivot themselves around when seated. Wheelchair users must be strong enough to transfer themselves from a wheelchair to the stairlift safely.
weigh under the recommended weight capacity of the stair lift. This is usually around 300 to 400 lbs, but if you're unsure it's best to check with your stairlift provider.
So, Are Stairlifts Safe?
If the stairlift user is able to fulfil the health, physical, and cognitive requirements to use a stairlift independently, then any associated risks of going and up and down the stairs will be reduced significantly.
In addition, further measures are taken by stairlift manufacturers and retailers to help minimise stairlift failure. These measures should provide extra reassurance for the stairlift user and their family.  Each measure, highlighted below, aims to make each stairlift journey as safe as possible:
The Stairlift Model
UK stairlift manufacturers are required to meet UK manufacturing quality standards. Each straight or curved stairlift model is put through thorough testing before it makes to the showroom floor and into your home. This testing ensures the stairlift can withstand everything from moderate to heavy usage and is built to last.
The Halton Stairlifts team
Halton Stairlifts have been established since 2012, however many of our employees have been working with stairlifts for a lot longer than that. Our technicians, advisors, and installers are all trained to the highest standards. Often with years of specialist experience under their belts, you can be sure your stairlift installation is of the highest quality. And whether you buy a brand new or a reconditioned stairlift unit, every stairlift that leaves our workshop is restored and finished to the highest standard and is covered by a 12-month guarantee.
We're also registered with the British Healthcare Trades Association (BHTA) and the Chartered Trading Standards Institute. This ensures we meet their code of practice to give the best stairlift advice and guidance to suit your individual circumstances.
Stairlift Safety Features
Stairlifts from Halton Stairlifts also come with a range of safety features as standard to make using your new stairlift even easier and even safer. Our stairlift safety features include:
SELF-CHARGING BATTERIES
So, you're not left stuck upstairs in the event of a power cut. A battery controlled stairlift also ensures a smoother, more controlled ride.
SWIVEL SEAT
To take away the strain and struggle of turning to get out of your seat.  Access your hallway or landing with ease once you've finished your journey.
FOOTREST
The footrest helps to keep your feet away from the stairs as you travel up and down. They can also be folded neatly away so they don't cause a tripping hazard when your stairlift isn't in use.
REMOTE CONTROL
If there are two or more of you sharing a stairlift, the handy remote control allows you to call the stairlift up or down when you need it, so you don't have to attempt to retrieve it yourself.
KEY SWITCH
If you have little ones at home or the grandkids pop round to visit each week, the key switch helps you to isolate the on/off function to help keep them safe.
RETRACTABLE SEATBELT
Each stairlift features a retractable seatbelt for added reassurance and security.
SAFETY EDGES
If there's anything unexpected on your stairs, your stairlift will feature smart edges that will detect any obstacles and bring your stairlift to a safe stop to allow their removal.
If you've any questions about stairlift safety call Halton Stairlifts on 0800 644 7766. Or drop us a line if want to arrange a free no-obligation home visit to explore stairlift options for your home.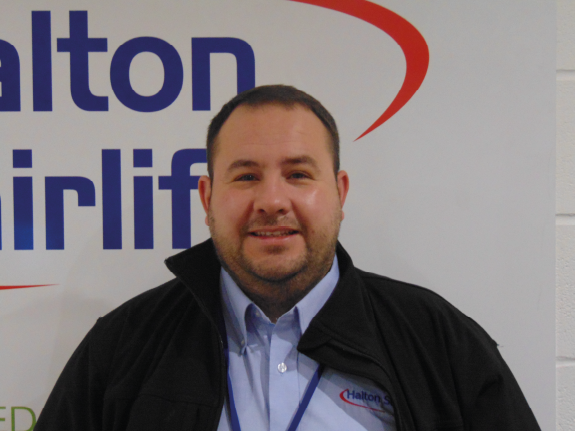 Neil is the founder of Halton Stairlifts. He has years of experience installing stairlifts across the UK. With an eagerness to help those with mobility issues get up the stairs, Neil understands how important it is for a seamless and straightforward approach to installing stairlifts to help those in need quickly.