Stairlifts come in a range of shapes, sizes, and styles. And many stairlift manufacturers aim to design models with contemporary looks and modern features. But when standard stairlifts don't meet your needs, bespoke stairlifts could be the option. 
The traditional stairlift usually includes a white gloss rail and matching stairlift with neutral-tone upholstery. But if want something a little different, you can choose from a range of customisable options to create a stairlift that matches your home interior perfectly.
Bespoke Stairlifts from Halton Stairlifts
At Halton Stairlifts, we can fully customise your stairlift to suit your home's interior. From the rail to the chair, change the look of your stairlift and make it special.
Bespoke Stairlift Rails
Curved Stairlifts require curved rails. Our engineers will measure up your staircase and craft a bespoke rail in our workshop. This means your rail will fit every turn and curve of your stairlift perfectly for the smoothest ride.
And not everyone chooses a white gloss finish for their woodwork at home. If your bannister is made from real wood or has a real wood-tone effect, then we can design your curved rail to match. Using powder coating, we can transform a standard curved rail into your preferred finish. So your stairlift looks like it's always been part of the furniture.
Bespoke Chair Lift
Your stairlift chair can also be adapted to suit your tastes. From an oak-style Louis XVI to French chateau shabby chic frames, you can add the perfect finishing touches to match your style aesthetic.
Stairlift Upholstery Choices
Stairlift models come with a range of upholstery colour options. Choose from bold primary colours of red, green, and blue or opt for neutral shades of pastel pink, taupe, and beige. Pick a colour that works with your decor, and customise your seat cushion to complement the room.
Reasons To Choose Bespoke Stairlifts
Bespoke stairlifts can be designed to match with your home's interior design. If you have an older home with traditional architectural features, adding a modern stairlift can make it look out of place. A customised stairlift can blend in with its surroundings more. For more modern homes, take inspiration from Scandinavian design with light wood finishes and clean lines.
Show your personality. If clinical white casing and a beige cushioned seat aren't for you, mix things up with brighter upholstery finishes and rail coatings. For younger stairlift users and the young at heart, reflect your personal style with a non-traditional finish.
Make it unique. With a range of colours and finishes available, your stairlift can be truly one of a kind. And because they're so unique, a bespoke stairlift is sure to become an eye-catching talking point with visitors to your home.
Because of the bespoke nature of these curved stairlifts, they're likely to take a little longer to install and cost more than a standard straight or curved stairlifts. But when they work so well in your home, you really start to enjoy the value they bring.
Call Halton Stairlifts to find out more about our customisable stairlift options on 0800 644 7766. Our stairlift experts can discuss what options are available to you, and give you a FREE no-obligation quote.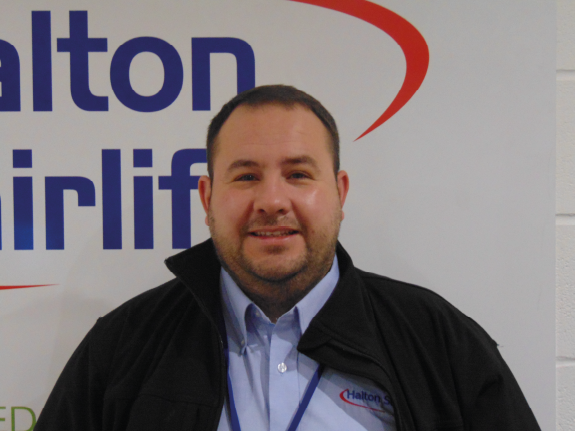 Neil is the founder of Halton Stairlifts. He has years of experience installing stairlifts across the UK. With an eagerness to help those with mobility issues get up the stairs, Neil understands how important it is for a seamless and straightforward approach to installing stairlifts to help those in need quickly.