From joint aches and stiffness to prolonged pain and swelling, osteoarthritis can be hard to live with. If you or someone you care for is living with osteoarthritis, you might be wondering whether a stairlift is suitable for them. Read on to find out more.
What exactly is osteoarthritis?
Osteoarthritis is a condition that affects millions of people. In fact, according to Versus Arthritis, it's one of the most common forms of arthritis in the UK. Osteoarthritis differs from other types of arthritis in that it affects (and thins) a person's bone cartilage. Over time this can be painful and very damaging. While the exact cause of osteoarthritis is not known, a person's risk of developing the condition increases as they get older.
What are the symptoms?
Osteoarthritis affects the joints. While any joint in the body can be affected, the condition most often tends to cause problems in a person's back, hips, knees, feet and hands. Osteoarthritis is known to be more common and often more severe in women. Symptoms can vary from person to person, but often come and go in episodes. Things like damp weather, diet and exercise routines can all affect the frequency and severity of flare-ups. If you're experiencing joint tenderness, limited range of movement and pain or stiffness in your joints when you haven't moved them for a while, then these may well be symptoms of osteoarthritis. In the first instance, it's always important to speak to your GP to get advice and a diagnosis if you're concerned.
Can a stairlift help with osteoarthritis?
Carrying added weight can put an extra strain on a person's joints, which can be particularly problematic if they're already dealing with osteoarthritis, to begin with. Having a stairlift installed in your own home can help relieve symptoms associated with rheumatoid and osteoarthritis. Halton Stairlifts supplies heavy-duty stairlifts like the New Halton Curved Dual Rail HD Stairlift. These models are specially designed to hold more weight, meaning that even heavier users can travel up and down the stairs safely and more easily without having to strain or put any extra pressure on sensitive areas and joints.
Is arthritis pain or inflammation when you walk making it difficult to get up and down the stairs? If you or someone you care for has a condition that could benefit from having an accessible stairlift 24/7, then you may well be considering having one installed in your home. Call Halton Stairlift on 0800 644 7766 for a no-obligation quote, or to find out more about Halton's full range of curved and straight stairlift installation options in your area.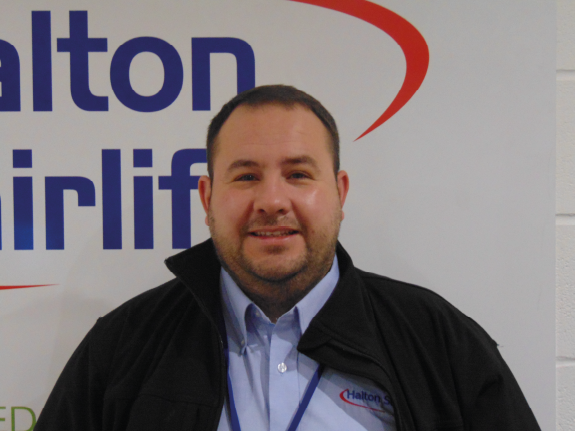 Neil is the founder of Halton Stairlifts. He has years of experience installing stairlifts across the UK. With an eagerness to help those with mobility issues get up the stairs, Neil understands how important it is for a seamless and straightforward approach to installing stairlifts to help those in need quickly.