Living with arthritis can mean even everyday activities become a challenge. Uncomfortable and painful, things like opening jars and climbing stairs become a lot more difficult and leave people asking questions like 'Should I avoid the stairs with arthritis?'
Arthritis is a degenerative condition, that can affect anybody at any stage of their life. However, it's most commonly seen as part of the ageing process, with many older adults reporting mild to severe symptoms in different parts of the body
For people with sore hips, knees, and ankles, steps and stairs become harder to manage, but it can feel even harder to avoid them when you're either at home or out and about. But there are things you can do to make using the stairs a little easier.
Should I Avoid the Stairs with Arthritis?
For someone with arthritis in their knees, using the stairs is likely to take a long time and can cause significant discomfort. And because it puts extra pressure on the joint behind the kneecap, going down the stairs can be even more problematic. But this doesn't mean you should avoid the stairs completely. In fact, adding some stair climbing into your daily or weekly exercise can help to reduce the pain caused by arthritis in the long run.
Is climbing stairs good for arthritis?
Many people with arthritis wonder whether climbing stairs is good or bad for their knees. Stair climbing helps to activate two muscle groups in the legs, the quadriceps and the hamstring. Climbing the stairs can actually help to strengthen the muscles that sit above the knee. When these connecting muscles are stronger, they can provide extra support to the knee joint and help to relieve the sensation of pain even when you're descending the stairs.
Using the stairs can also help to burn calories in turn helping with weight loss. So, if you burn enough calories in the long term, it can help to reduce the amount of strain on the knee joint.
Is there anything else I can do?
Stronger Legs
Before you start an exercise programme to build strength in your leg muscles, it's best to speak to your GP or a qualified physiotherapist first. They can assess you and give you tailored advice based on your specific health needs and living circumstances.
Get Moving
If you find you're sitting at home or at work for long periods of time, remind yourself to get up and move around. Just a gentle walk around the living room or up and down a corridor can help to loosen up stiff joints and leave you feeling more confident to tackle the stairs.
Install a Stairlift
Buying or renting a stairlift can help to eliminate the physical demands of the stairs and alleviate the pain experienced when using the stairs. If sitting in a chair lift doesn't sound like a solution to you, try a sit-and-stand stairlift or a perch stairlift.  These different types of stairlifts mean you can journey up the stairs standing with support or resting against a padded seat without needing to bend your knees.
Find Out More
There are also lots of UK charities with advice and support for those with arthritis including Arthritis Action, Versus Arthritis, and The Arthritis Foundation.
Speak to our team of stairlift experts to find out more about the different stairlift options available to you if the thought 'Should I avoid the stairs with arthritis?' has crossed your mind. From new and reconditioned to straight and curved stairlifts, there's a stairlift to suit your budget, home, and your needs.  Call us today on 0800 644 7766 for a FREE no-obligation quote.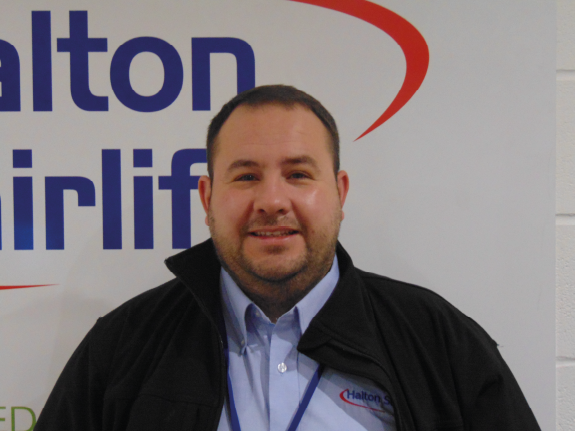 Neil is the founder of Halton Stairlifts. He has years of experience installing stairlifts across the UK. With an eagerness to help those with mobility issues get up the stairs, Neil understands how important it is for a seamless and straightforward approach to installing stairlifts to help those in need quickly.