As the Lionesses bask in the glow of becoming champions of Europe, their dramatic 2-1 victory against Germany is set to boost girls football across the country.
It wasn't that long ago that many young girls were not allowed to play football at all – but now they can dream big after the success of the England Women's team.
Local girls on a winning streak – with sponsorship from Halton Stairlifts
The national team's victory was the best end to a fantastic year for young players from Runcorn Linnets Girls Football Under 11s.
The youngsters  have just celebrated their most successful season ever after being sponsored by Halton Stairlifts.
The girls have been playing in new kits thanks to funding from Halton and have gone on to win their first tournament and first league title.
The sponsorship came about last year when Halton Stairlifts Sales Manager Chris Bazley, raised the possibility of funding with the company's Managing Director Neil McKenzie.
More than happy to help
Chris, who is one of the head coaches for the girls teams said: "I asked Neil because I have known Neil to sponsor football teams before. Because my daughter plays for the team I asked if he would be interested in sponsoring them – and he was more than happy to do so."
He added: "I know he sponsors adult football teams and kids football teams. This is the first girls team that he has sponsored."
And for the girls it was their first season with sponsorship – meaning they were able to play in matches proudly wearing their new full kit.
Before Neil got involved many of the girls had old mix and match kits – but the sponsorship deal meant they were able to walk out onto the pitch with increased confidence.
And they have had a spectacular year – coming top in the Wirral League and competing against teams from across the North West to win the Halton Tournament.
The girls under 11s includes two teams – the more advanced players and those who are being introduced to the sport.
Chris said: "We've got 25 girls on our books – there are other teams who struggle to get 10."
Girls football is set to get more popular
After England's win against Germany Chris is expecting more girls to want to get into the sport.
"With the Lionesses winning at the weekend it will, without a shadow of a doubt, get more popular," he said.
He said some of the Halton Linnets girls had gone to Wembley with their parents to watch the final, which was an "absolutely brilliant experience for them all".
Neil said: "Here at Halton Stairlifts we are huge football fans and we believe in giving back to the community.
"When Chris approached me about sponsoring the girls teams I was more than happy to help.
"They have had a fantastic season, and it's great to be able to support them. Well done to all of them – we could be looking at Lionesses of the future!"
Customised stairlifts can make a big difference to the quality of someone's life, bringing added security and independence. If you need an affordable stairlift or if you know someone else who would benefit from one, call Halton Stairlifts on 0800 644 7766 to speak to an experienced member of the team. Our trained professionals can offer clear and honest advice about any model from our range to help you decide whether a new or reconditioned stairlift is the best option for you and your home.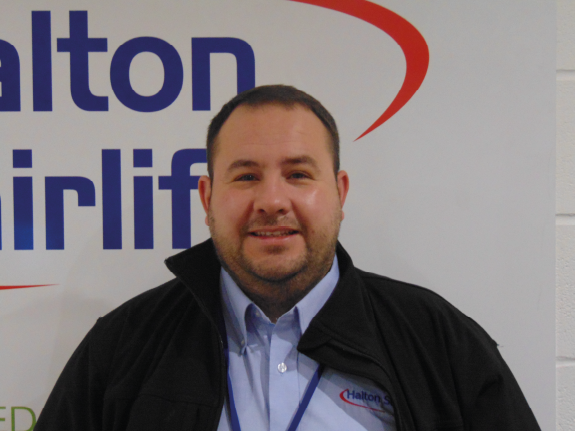 Neil is the founder of Halton Stairlifts. He has years of experience installing stairlifts across the UK. With an eagerness to help those with mobility issues get up the stairs, Neil understands how important it is for a seamless and straightforward approach to installing stairlifts to help those in need quickly.