From used to new, straight to curved, there are so many stairlifts out there that it can be daunting to choose the right one for you. When purchasing stairlifts, people worry that the stairlift will be too fast for them.
We understand that buying a new stairlift can be intimidating which is why we are here to help. There are many reasons why you may wish to rent or purchase a stairlift – for example, if you experience joint problems and arthritis and struggle climbing stairs.
If you are someone who feels like you rely heavily on others to help you around the house, then a stairlift is the ideal solution for you. Stairlifts allow you to have that extra sense of freedom and independence. For a detailed guide on how fast stairlifts go and more, read on!
Are Straight Stairlifts Faster Than Curved?
The speed of the stairlift depends on the type of staircase you have. For example, if you have a curved staircase, then it will take slightly longer for your stairlift to reach the top of the staircase. This is because there are bends and turns on this type of staircase. But, are straight stairlifts faster than curved ones?
Straight staircases, on the other hand, have no bends, turns or half-landings, therefore, allowing the stairlift to travel slightly faster than curved stairlifts. Here at Halton Stairlifts, we are a Checkatrade-approved company and can ensure that you travel at an appropriate speed on our stairlifts – so you don't need to worry about your stairlifts going too fast.
Curved stairlifts come with custom-made rails which require a longer installation time whereas straight stairlifts don't and can be fitted straight onto your staircase. With straight stairlifts, you are more likely to get to the top/bottom of your stairs quicker due to straight staircases being a straight run.
Our new and reconditioned stairlifts travel at a very slow rate of 0.15 metres per second. This is equivalent to 0.34 mph. Your safety is our top priority which is why we believe that it is important for your stairlifts to move at a slow rate. This is to ensure that our customers feel safe and secure when using our stairlifts.
To sum up, straight stairlifts are slightly quicker than curved stairlifts as they have no bends or turns whereas curved stairlifts do. We ensure that our stairlifts move at a low speed to allow our users to have a comfortable, safe journey.
Moreover, all of our Stairlifts are completed with stop-start controls so you can rest assured that you are in control of your stairlift at all times.
Reconditioned Stairlift Speed Compared to New Stairlift Speed
Before we go into detail about whether reconditioned stairlifts are slower than new ones, it's ideal that you have a brief understanding of the difference between the two. When people hear the phrase 'reconditioned', many people assume that the item is of lower quality, however, that isn't the case here at Halton Stairlifts.
The main difference between a new and refurbished stairlift is simply that our reconditioned ones have been pre-loved. We ensure that all our reconditioned stairlifts undergo thorough testing to ensure that their safety and reliability meet our expectations.
Second-hand stairlifts are also better for the environment, not to mention they are slightly cheaper compared to new ones. Now, although refurbished stairlifts have been used before, they still meet all of our high expectations. The speed of a reconditioned stairlift is no faster/slower than new stairlifts, so you can rest assured that they are not of inferior quality.
For more information on our refurbished stairlifts, make sure to check out our used stairlifts today. Alternatively, contact our team to learn more about our products.
Factors That Affect The Speed of a Stairlift
There are many factors that can affect the speed of your stair lift such as automated swivel seats. This is because they can impact the operating speed of your stairlift by rotating the seat at the top or bottom of your staircase.
Although curved stairlifts are slightly slower than straight, there are still certain factors that can affect the speed of your lift such as the length of the track, automatic swivel seats and additional parts.
The main factor that affects the speed of a stairlift is the type of staircase you have. As discussed before, if you have a straight staircase, your stairlift is bound to travel at a relatively quicker rate. However, if you have a curved staircase, then your stairlift will travel at a slightly slower rate due to the bends and turns on the staircase.
Halton Stairlifts Can Help
Here at Halton Stairlifts, we offer a wide range of stairlifts suited to you. Our stairlifts are designed with a choice of upholstery colours to allow your lift to fit seamlessly into your home. From reconditioned to new stairlifts, straight to curved, we have everything you need in one place.
We are an award-winning stairlift company that doesn't just offer stairlifts, but stairlift repairs and installations too. We offer a no-pressure promise and obligation-free quotes. Think you have found a stairlift for a better price? We match or beat prices that any other company offers!
All of our stairlifts are thoroughly checked before you buy to ensure they meet our health and safety standards and expectations. With over 22 years of experience in this industry, safety and comfort have always been our top priority.
This is because we believe that all our customers deserve the best high-quality products for their money. For more information on the straight stairlifts we offer, make sure to visit our straight stairlifts section on our website.
Alternatively, for our curved stairlifts, make sure to browse our selection of curved stairlifts. If you would like more information or advice on our stairlifts, contact us today at 0800 644 7766. We look forward to hearing from you!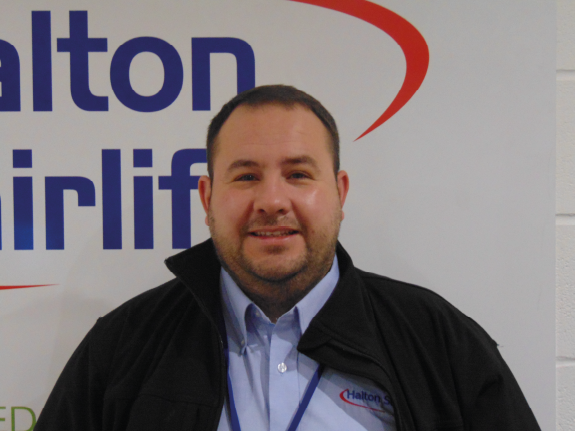 Neil is the founder of Halton Stairlifts. He has years of experience installing stairlifts across the UK. With an eagerness to help those with mobility issues get up the stairs, Neil understands how important it is for a seamless and straightforward approach to installing stairlifts to help those in need quickly.