For people who have difficulty getting up and down the stairs, there are several options for moving between the floors of your home. Between elevators and platform lifts, the stairlift seems to be the most convenient and affordable solution for many people. If you've been searching for a stairlift online, you might have also come across the term 'chair lift'. So, what's the difference between a stairlift and a chair lift? and how will it affect your decision-making?
What's the Difference between a Stairlift and a Chair Lift?
A stairlift and a chair lift are the same thing. Both terms are often used interchangeably.
There are, however, some variations on the traditional stairlift to suit a range of different physical needs. Before you rent or buy a stairlift, here is a quick summary of different stairlifts to help you find the best match for you and your home:
Chair Lifts
Chair lifts are perhaps the most recognisable type of stairlift. A chair lift features a seat attached to a motor that runs on a track along the staircase. You can find chair lifts as straight stairlifts and curved stairlifts to suit both stairs with turns, bends, straight staircases and half-landings respectively. Chair lifts are ideal for individuals who have difficulty balancing when standing and are comfortable sitting.
Perch Stairlifts
A perch stairlift is designed for users with limited movement in the knee or hip joints and find sitting down a challenge. Featuring a smaller seat and arms for support, users can 'perch' in a comfortable upright position as they travel up and down the stairs.
Similar to standing stairlifts, perch stairlifts offer extra support. The user rests on the small seat in an 'almost standing' position whilst alleviating pain in leg joints and muscles.
Sit or Stand Stairlifts
A sit or stand stairlift brings more choice to the home. Sit-stand stairlifts are perfect for homes with multiple users with differing physical abilities, or for individuals with fluctuating mobility. With a footrest and grab rail, users who experience pain or discomfort when sitting can opt to stand up. With a fold-away seat, users who can sit in comfort can choose to sit down as they use the stairs.
If you'd like to know more about the differences between the different types of stairlifts, call our friendly team on 0800 644 7766 who'll be happy to give you advice. Or arrange for a FREE home assessment with a no-obligation quote, and you could have a new chair lift installed before you know it.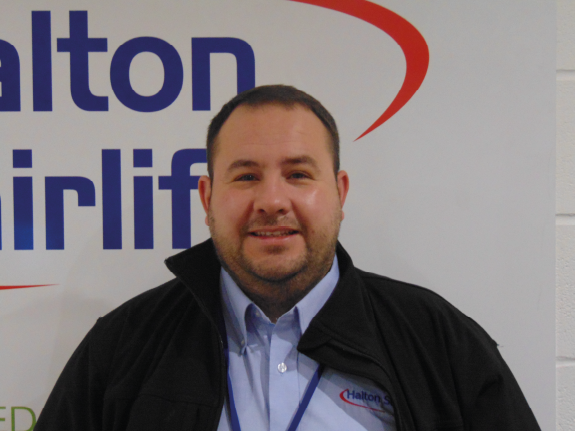 Neil is the founder of Halton Stairlifts. He has years of experience installing stairlifts across the UK. With an eagerness to help those with mobility issues get up the stairs, Neil understands how important it is for a seamless and straightforward approach to installing stairlifts to help those in need quickly.