A stairlift is a great way to regain your independence and allow you to move more freely around the house. Some people may feel like they are always relying on a companion to help them around their home, but with the help of our stairlifts, this won't be the case for much longer!
However, if you feel you are struggling to afford a stairlift, we can help. We believe that no one should be excluded from anything that can improve their quality of life.
This is why we have a range of options available to help you feel more in control of your purchases.
All of our stairlifts come with a comprehensive warranty to give our customers peace of mind. If there is a power cut or a problem with your stairlift, which is unlikely, we will help you.
If you struggle with your walking, are a wheelchair or mobility scooter user, suffer from joint pain, or simply struggle to use the stairs due to age, then you would benefit from investing in a stairlift.
Throughout this blog, we will be exploring the different options available when purchasing a stairlift and the lifts available here at Halton Stairlifts. For more information, read on!
Do Your Research Before Purchasing a Stairlift
There are so many stairlift companies out there that it can be daunting to try to find the right one for you at an affordable price. However, there is no need to worry, as we are here to help. Here at Halton Stairlifts, we offer high-quality stairlifts at an affordable price across the UK.
Whether you are after a stairlift to fit seamlessly onto your curved staircase, a straight staircase, or a reconditioned one, we have everything you need in one place. Our new and curved stairlifts are slightly more expensive compared to our reconditioned stairlifts, as well as our straight ones.
This is because our curved stairlifts are made-to-measure to ensure they fit your staircase and come with a bespoke design suited to your home. However, straight stairlifts can be fitted to any straight staircase.
So, what exactly makes a reconditioned stairlift cheaper than a new one? Read on to find out!
Why Are Reconditioned Stairlifts Cheaper Than New Ones?
A pre-owned stairlift is a lift that has been pre-loved by someone else before you and resold back onto the market. Only some stairlifts that have been used are re-sold because they have to meet our health and safety standards first.
Although reconditioned stairlifts are not brand new, the quality is not compromised in any way, shape, or form. In fact, when you purchase this stairlift, you are not only getting it for a cheaper price, but you are also helping the environment.
Our used stairlifts are designed to be extremely durable and are refurbished to ensure they are in excellent condition. So, the only difference between new and reconditioned stairlifts is the price and the fact that they have previously been pre-owned.
Due to this, refurbished stairlifts are relatively cheaper compared to new ones, making them a great alternative for those interested in purchasing a stairlift at a more affordable price.
Why Are Straight Stairlifts Cheaper Than Curved?
Now that you have an understanding of what makes reconditioned stairlifts cheaper than new ones, we will explore why straight lifts are cheaper than curved ones.
As briefly discussed before, curved stairlifts have a made-to-measure track to ensure that they fit seamlessly onto your stairs, whereas straight lifts do not need as much customisation. The manufacturing cost for a curved rail is slightly higher compared to a straight one.
This is because a curved rail is made specifically to meet your home's requirements to ensure that it fits seamlessly into the contours and edges of your staircase. The main reasons why curved stairlifts are more expensive come down to multiple factors:
Installation costs
Manufacturing costs
The number of curves in the rail
So, if you own a straight staircase, you will be able to purchase a straight stairlift. However, if you own a curved stairlift but don't want to spend a lot, you can take a look at our range of reconditioned stairlifts.
Do Halton Stairlifts Offer Finance Options?
Here at Halton Stairlifts, we are a Checkatrade-approved company with over a decade of experience in the industry. Your safety and comfort are our top priorities, which is why we work with our clients to ensure they feel comfortable and safe with their products and services.
A common question we are asked is if we offer financing options for your stairlifts. The answer is yes, we do! We work with a credit broker called 'Deko', which helps put you in touch with lenders to find finance options suitable for you.
It's quick and easy to use, simply call our experienced, friendly team to explore the various options available to finance your stair lift. We also offer rental options for both straight and curved stairlifts. (subject to terms and conditions).
We believe that no one should be excluded from buying something that can massively benefit their overall health, which is why we offer a range of affordable options for our customers.
Whether you are after a straight stairlift or a curved lift, we are here to help. Financing your payments helps you feel in control of your purchases and allows you to spread them out at monthly intervals. You are able to spread your payments over a period of 24 to 36 months.
Contact Halton Stairlifts
We care for all our customers, which is why we always ensure that they receive the best service possible. If you are struggling with finding a reliable stairlift company, remember that Halton Stairlifts can help!
If you would like more information on our financing options or the home lifts we offer, don't hesitate to contact us at 0800 644 7766. Alternatively, you can email us by filling out our online form. We are more than happy to help!
Here at Halton Stairlifts, we offer a free, no-obligation quote and believe it is essential that our customers feel comfortable when they come to us. With a range of stairlifts to choose from, such as lifts for curved staircases, our straight stairlift collection and pre-owned lifts, we can guarantee there is a stairlift for you!
This is because we want you to feel happy with your stairlift without feeling pressured into purchasing it. Remember, there are no extra fees or hidden costs, so you can rest assured that you are in safe hands!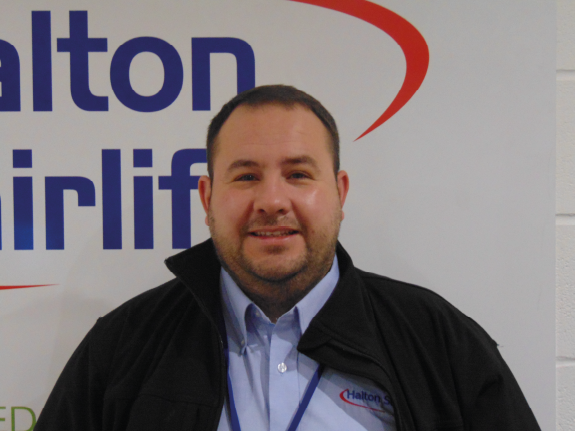 Neil is the founder of Halton Stairlifts. He has years of experience installing stairlifts across the UK. With an eagerness to help those with mobility issues get up the stairs, Neil understands how important it is for a seamless and straightforward approach to installing stairlifts to help those in need quickly.