Stairlifts offer a lifeline to individuals who struggle with mobility challenges and live in multi-storey homes. If you are a wheelchair user, or you suffer from any problems that affect your joints, such as arthritis or other issues, then a stairlift is the perfect solution for you.
These devices have completely changed the way people navigate their homes, providing a safe and convenient solution for moving up and down stairs.
In this blog, we will be discussing everything you need to know about stairlifts, and their inner workings, exploring the technology and modern engineering behind the lifts, their components, and how they operate seamlessly to improve the quality of life for many.
Understanding the Basics of Stairlifts
Before we dive into the details of how stairlifts work, let's start with the basic concept. Stairlifts are chairs that are attached to a rail which is fixed along a staircase's length. The chair is designed for easy entry and exit and is equipped with safety features to ensure a secure ride.
The primary function of a stairlift is to transport individuals up and down stairs without the need for physical effort. Many people choose to purchase a stairlift when facing the stairs becomes a struggle.
The Main Components of a Stairlift
Now that you have a better understanding of the basics of a stairlift, let's explore the components of them. To understand how a stairlift operates, it's essential to be familiar with its key components:
One of the most important components of the lift is the stairlift track. This serves as the foundation of the stairlift, securely attached to the staircase. It provides a guided path for the chair to travel along.
The chair is where you sit during the ride. It is ergonomically designed for comfort and includes armrests, a footrest, and a seat belt for safety.
Next, we have the drive unit. This is responsible for moving the chair along the rail. It typically consists of an electric motor, gearbox, and drive mechanism.
Stairlifts come with user-friendly controls, often located on the armrest. These controls allow people to initiate the ride, stop the chair, and control its direction. This is put in place so you are in control of your stairlift at all times.
Finally, lifts can be powered by either electricity from the mains or rechargeable batteries. Battery-powered stairlifts offer the advantage of uninterrupted operation during power outages. Here at Halton Stairlifts, all of our stairlifts are battery-powered in case this occurs.
The Journey of a Stairlift
Let's take a closer look at the journey of a stairlift, from the moment it's activated to you reaching your destination.
First and foremost, you activate the stairlift by using the controls. This can typically be done by pressing a button or flicking a switch on the armrest, which causes the stairlift's motor to start running.
Depending on your desired direction, the stairlift moves along the rail either upward or downward. This movement is controlled by the motor, which powers the chair's drive mechanism.
Moreover, the chair moves along the rail with precision and steadiness. Most modern stairlifts are designed to ensure a smooth and comfortable ride, with safety features such as sensors to detect obstructions on the stairs and a slow down or stop option if needed.
When you reach the desired floor or landing, you can stop the stairlift by releasing the controls. The chair comes to a gentle stop, and you can easily get off the lift.
Most models are equipped with a swivel seat to make getting on and off the stairlift easier. After reaching the landing, you can swivel the chair to face the landing and lock it in position, making it safe to stand up and exit the chair.
Battery-Powered Stairlifts
Curved and straight stairlifts can be powered in two different ways: by using electricity from the mains or by rechargeable batteries.
Here at Halton Stairlifts all of our stairlifts are powered by lead acid or lithium batteries. These are recharged when the stairlift is not in use. Our battery-powered stairlifts come with a range of benefits including a smoother ride quality and the ability to still run in the event of a power cut.
Battery-powered lifts are highly versatile and come with rechargeable batteries. They are a preferred option when there's a concern about power outages, as they can continue to operate even when the main power is down.
These stairlifts have a charging station at the top or bottom of the stairs, ensuring that the batteries are always ready for use.
Safety Features
Safety is crucial when it comes to stairlifts, which is why these devices are equipped with various safety features to protect you during your journeys:
Stairlifts are typically fitted with a seatbelt or harness to secure you in the chair, preventing accidental falls.
Most lifts also come with sensors to detect any obstructions on the stairs, such as objects or pets. When an obstruction is detected, the stairlift will stop or slow down to avoid a collision.
Users can easily stop the stairlift in case of an emergency by releasing the directional control on the arm of the stairlift.
Moreover, the swivel seat comes with a lock to ensure it remains in the correct position when you are getting on or off the chair.
Finally, some stairlifts have a key lock, preventing unauthorised use, especially when there are children in the household.
Maintenance and Servicing
Regular maintenance and servicing are crucial to ensure the continued safe and reliable operation of your stairlift. It's recommended to have a professional technician inspect and service your stairlift at least once a year.
This maintenance includes checking for wear and tear, lubricating moving parts, and testing safety features. For more information regarding the maintenance and servicing of your stairlift, don't hesitate to contact us.
Find The Right Stairlift For You
In conclusion, stairlifts are a remarkable solution for individuals with mobility challenges, offering you the freedom to move around your home independently and safely.
If you suffer from mobility issues, joint problems or any other problems that affect your ability to move, then a stairlift is the perfect solution for you. Whether you have a curved staircase or a straight one, we have an option for everyone.
We offer a range of different services for our range of straight stairlifts or a selection of curved stairlifts, such as services, stairlift installation, removal and maintenance. If you need an outdoor stairlift, then we can provide you with high-quality lifts designed to face even the harshest of weather conditions.
For more information on the bespoke stairlifts we offer or to speak to a member of our team, don't hesitate to contact us at 0800 644 7766. We are more than happy to help.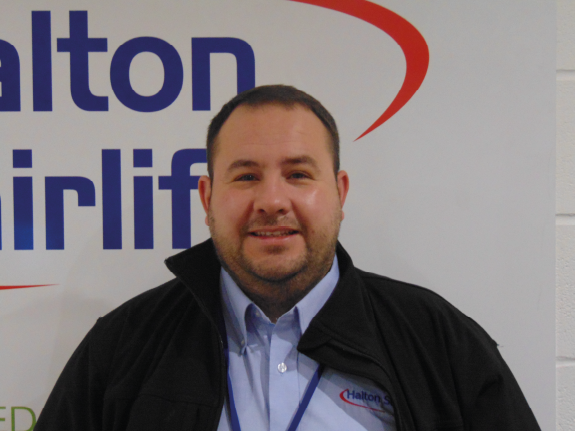 Neil is the founder of Halton Stairlifts. He has years of experience installing stairlifts across the UK. With an eagerness to help those with mobility issues get up the stairs, Neil understands how important it is for a seamless and straightforward approach to installing stairlifts to help those in need quickly.