If you've been holding your breath watching an elderly parent or loved one try to climb the stairs, it's time to get some extra help. You might have thought about buying a stairlift, but how do you help an elderly person climb stairs until the stairlift is installed?
Stairlift installation can happen quickly, usually within just a few days of placing your order. But, there are practical steps you can take in the meantime. Keep your loved one safe until your stairlift is fitted.
How Do You Help an Elderly Person Climb Stairs?
If using the stairs is unavoidable, here are our top five tips for improving the safety of the stairs to help an elderly person climb them.
Check the Environment
Carry out a quick check of the staircase or steps and the areas at the top and bottom. This helps identify slipping or tripping hazards. Start by removing any items left on the stairs. Then make sure the landing and floors at the bottom of the stairs are cleared of clutter.
You should also secure or remove rugs to reduce the risk of slipping or tripping. If the floor coverings on and around the stairs become slippery when wet or polished, you might want to think about replacing them. You can find more tips in our guide to stair safety and dementia.
Get Moving
If their problems with the stairs come down to a mechanical lack of strength, introduce exercise into their weekly routine. Simple activities can help to strengthen leg and core muscles. This should make climbing movements easier.
Speak to your GP for advice on starting a new exercise   And where possible, gently encourage your loved one to use the stairs or climb steps. This will help them to become stronger and will ensure they maintain their confidence when it comes to the stairs.
Lend a Hand
Offer to assist your partner or parent as they use the stairs. Make sure you're in good health and are strong enough to fully support and steady them if they lose balance. If you're not, you're placing yourself and your loved one at risk of falling and sustaining an injury.
Encourage them to take their time and remind them to step with their strongest leg first. If you're helping them up the stairs, stand behind them to support them if they feel like they'll fall backwards. If you're helping them down the stairs, stand in front of them to prevent them from falling forward.
Add Handrails
A second handrail running the length of the stairs can provide some extra support for elderly people who struggle with balance.  People climbing the stairs can use the handrail rail to steady themselves, and it can act as an extra grab rail if the person does lose balance.
Relatively cheap and easy to install, they're a handy home adaptation to help with the stairs. They can also be removed easily if you decide to fit a stairlift at a later date.
Install a Stairlift
Installing a stairlift brings extra peace of mind to families who are worried about an elderly person. Modern stairlifts are complete with a range of safety features. They're also easy to use, so a stairlift can also be operated independently without the need to rely on another person.  There is a great range of straight, slimline, and curved stairlifts available to suit your staircase and your budget. You can also find more answers in our blog post, are stairlifts safe?
You may also want to think about reviewing medication, arranging an eye test, or organising a personal alarm system. This may help to reduce the impact of other factors like side effects or poor eyesight on someone's ability to use the stairs. A personal alarm can also be useful if the individual does fall and call for help.
If you'd like faster stairlift installation, or to simply talk through options for helping an elderly relative with the stairs, speak to Halton Stairlifts today. Our stairlift experts will advise you of your options and can provide a FREE no-obligation quote. Call us on 0800 644 7766 and we'll do all we can to help you help an elderly person climb stairs.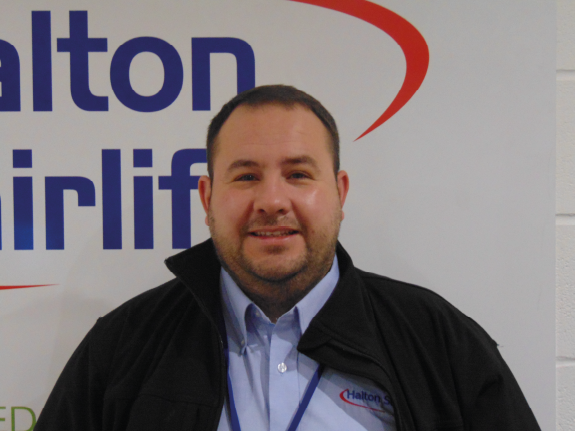 Neil is the founder of Halton Stairlifts. He has years of experience installing stairlifts across the UK. With an eagerness to help those with mobility issues get up the stairs, Neil understands how important it is for a seamless and straightforward approach to installing stairlifts to help those in need quickly.