'The Get Wise to Buying a Stairlift Guide' was produced by the British Healthcare Trade Association (BHTA) as an independent guide to buying a stairlift, including choosing your stairlift and stairlift installation.
The BHTA represents almost 500 companies throughout Britain.  Each company agrees to follow and comply with the BHTA Code of Practice, approved by The Chartered Trading Standards Institute. As a BHTA member, Halton Stairlifts operates to higher standards of customer protection and service.
Here we take a look at the BHTA advice on stairlift installation:
Stairlift Installation
How soon can I get a stairlift fitted?
The stairlift can be installed quickly if you are buying directly from a reputable stairlift company and you're using your own money. With Halton Stairlifts, installation takes place within just a few days, with same-day installation available if possible.
If you're waiting for a disabilities grant to be approved, installation may take several months.
How long does installation take?
The installation itself is usually done in a day. You might not be able to use the stairs while the work is being done. The installation will need a power socket so that the stairlift can remain plugged in or wired directly to the socket and must remain switched on at all times. For more details take a look at our blog post 'how long does stairlift installation take?'
What is involved in stairlift installation?
If you buy a stair lift direct from a stairlift supplier, they will deliver and install it. The installation will include all electrical work and the removal of any obstructions on the stairway, such as any handrails.
Before the installation, ask the stairlift company whether any alterations to your home will be needed, and who will be responsible for them. If any work is needed on your home, you need to know who will be responsible for restoring and making good your decor.
The running rail for most stairlifts is fitted directly onto the stair treads, so holes have to be made through the carpets. The decoration is affected when the controls are fitted to the walls.
Before they leave
The installer will show you how to operate the stairlift before they leave. They'll make sure that you can manage it and that you are comfortable with it, making any necessary adjustments if you're unhappy. Make sure that your feet fit onto the footrest and that it is a comfortable distance from the seat.
You'll also be given written instructions, and a telephone number to use if you have any queries or problems. It's a good idea to stick the number on the lift.
To arrange installation with Halton Stairlifts, call us today on 0800 644 7766. Next-day fitting is often available, so don't forget to ask if you need your stairlift installed quickly. Get your FREE quote and virtual survey to find your perfect stairlift.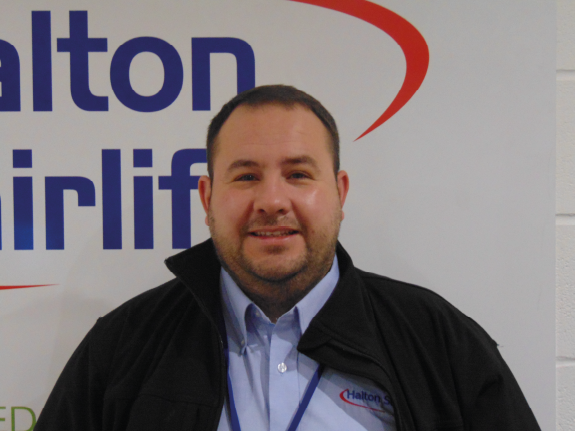 Neil is the founder of Halton Stairlifts. He has years of experience installing stairlifts across the UK. With an eagerness to help those with mobility issues get up the stairs, Neil understands how important it is for a seamless and straightforward approach to installing stairlifts to help those in need quickly.