If you've taken the decision to have a stairlift installed in your home, then you'll be keen to get the process started as soon as possible. After all, stairlifts are a necessity, not a luxury. However, stairlifts are an invaluable tool for people struggling with mobility, and the process shouldn't be rushed – it's important to find the right stairlifts for your unique needs. If you've been scoping out stairlifts in your area for yourself, a family member, or a loved one, then you might be wondering if local next-day delivery is available for you. Read on to find out more.
Is stairlift next-day delivery possible in my area?
Halton Stairlifts offer next-day fitting, with many stairlift orders fulfilled and installed within 24 hours of making the call. Most stairlifts from Halton Stairlifts are typically fitted within just a few days. Depending on stairlift availability and location, we have even previously installed stairlifts on the same day.
Benefits of next-day stairlift delivery
At Halton Stairlifts, convenience is key. Making our customers' experience as efficient and safe as possible is our top priority, meaning in most cases we are able to install your stairlift of choice the day after ordering. Not every stairlift company offers the convenience of next-day delivery, so you might be wondering if there are any extra charges for such a service. The simple answer is no! Throughout the year, Halton's expert team of surveyors and engineers supply and fit hundreds of stairlifts to happy homes around the UK. They're dedicated to getting a suitable stairlift to you in the quickest available time, every time, as standard, so this won't come at any extra cost to you.
How long does installation take?
With next-day delivery available, our average stairlift installation time is under 2 hours. This means from start to finish that your indoor stairlift can be up and running in less than a day! As our highly trained Halton Stairlift engineers supply the very latest stairlift models and track systems, you can trust that you won't ever be left with any unsightly modification or damage to your home or décor. You can find out exactly what to expect from a stairlift home assessment from us by reading more here.
If you're thinking about buying your first stairlift, take a look at our exceptional range of straight and curved stairlifts by requesting your free Halton Stairlift brochure. Alternatively, give our friendly team a call on 0800 644 7766 to arrange your free home assessment. Low monthly payments are also available, just speak to our team to find out your options.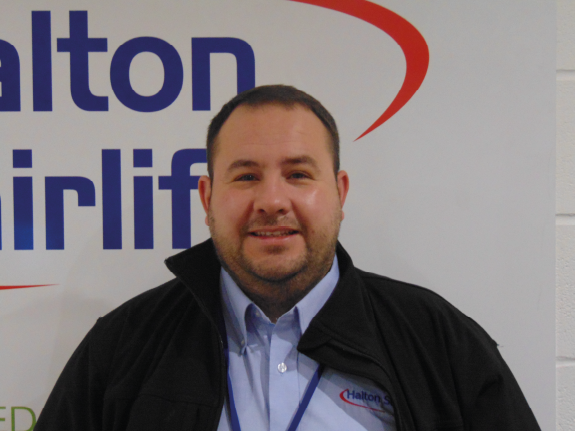 Neil is the founder of Halton Stairlifts. He has years of experience installing stairlifts across the UK. With an eagerness to help those with mobility issues get up the stairs, Neil understands how important it is for a seamless and straightforward approach to installing stairlifts to help those in need quickly.