A stairlift is an excellent option for those who suffer from mobility issues, joint problems, or difficulty moving around the house, no matter their age. There are a range of different types of stairlifts available to fit the needs of an individual and their home.
For example, if you have a curved staircase, then you will need a curved stairlift. Whereas, if you have a straight staircase, then a straight lift is the perfect solution.
However, if you suffer from bending down and would prefer to stay upright on the stairlift, then our standing stairlifts are the ideal solution.
This is a great way to travel up and down the stairs without putting too much pressure on your joints. All of our standing stairlifts are secured with a fully adjustable waist belt and a handrail bar to ensure users feel comfortable and safe while using the lift.
If you would like more advice or information on the standing lifts we offer, read on for our detailed guide!
Halton Sit And Stand Stairlift
Here at Halton Stairlifts, we believe that anyone who suffers from joint pain, mobility problems, or any other issues that can affect their movement, should be entitled to a stairlift, no matter the situation.
This is why we designed the Halton Sit and Stand Stairlift for those who struggle to bend down. Available in a range of upholstery colours to fit into your home's aesthetic, this stairlift is easy to use and has been approved by the Arthritis Foundation.
This stairlift has the capability to accommodate the needs of two users, as you are able to use the stairlift to either sit or stand.
If you are worried about your safety with the Halton Sit and Stand Stairlift, we can assure you that there is nothing to worry about as this lift is fitted with a grab rail to ensure you are safe whilst using the stair lift.
Moreover, this stairlift comes with a comfortable seat and backrest, fold-up arms, a footrest, a safety seat belt and much more.
Here at Halton Stairlifts, we are a Checkatrade-approved company with over a decade of experience in this industry. Your safety is our top priority, which is why we ensure all of our lifts have built-in sensors to bring the stairlift to a stop in case of any obstructions. Some of the key features are:
A backrest and comfortable seat
Easy-to-use controls
Built-in sensors
Safety belt
A grab rail for extra security
A removable key to prevent anyone from tampering with the lift
We understand that there may be times when two people living in the same house might need to use a stairlift for different reasons. This is why we have resolved the issue with the Halton Sit and Stand Stairlift.
What Are The Benefits of a Standing Stairlift?
There are many benefits to investing in a stairlift in general, but what are the benefits of a standing stairlift? Firstly, this stairlift is great for those who have trouble sitting down due to hip or joint problems
A standing stairlift is a great way to protect the user's back while helping them move up and down the stairs easier. Completed with a range of safety features, you can trust us, knowing you are in safe hands.
This stairlift improves mobility and allows users to regain their sense of freedom and independence. Moreover, it can accommodate both straight and curved stairlifts.
Our standing stairlifts are completed with a braking mechanism that detects if there are any objects in the way.
All of our stairlifts provide users with safety and comfort to ensure that they can move around the house easily and efficiently. So, if you are looking for a stairlift that offers both comfort and reliability, Halton Stairlifts can help.
Do I need a Standing Stairlift?
If you are unsure as to whether or not you need a standing stairlift, then we can help! Those who are very tall, struggle with sitting/bending down, have difficulty walking, or have a disability that prevents them from using the stairs will benefit from a standing stairlift.
Standing stairlifts are very similar to your traditional stairlift, with the main difference being that the seat is replaced with a 'perch seat' or a 'sit stand frame' fitted. This is to allow the user to feel relaxed and safe while they remain standing for the journey.
Standing stairlifts are also a great option for narrow stairs, as they don't take up much space and prevent your knees from sticking out and hitting the wall. Due to the seat's perch, you will have enough space to comfortably move up and down the stairs.
Speak to Halton Stairlifts
Here at Halton Stairlifts, we offer a range of services at an affordable price such as installation, removal, and regular checks for your stairlifts. Our installation service is quick, easy, and non-invasive. From a range of straight stairlifts to a selection of curved lifts and pre-owned ones, we have everything you need in one place.
We provide stairlifts to those located within the UK and provide all of our clients with the support they need to help them regain their freedom and independence.
If you are interested in the stairlifts we offer but would like some information on the prices of our stairlifts, the financial options we have available, or if you have any other questions, don't hesitate to call us at 0800 644 7766. We look forward to hearing from you!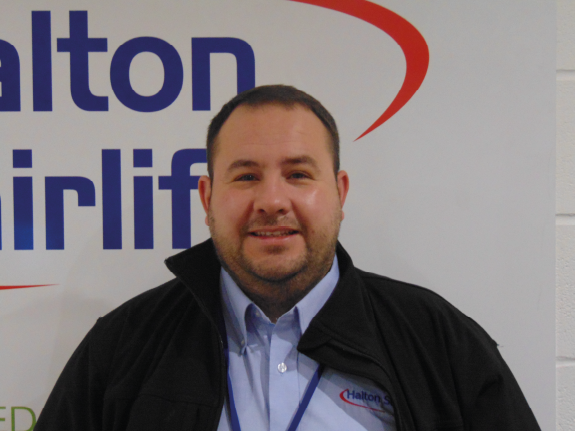 Neil is the founder of Halton Stairlifts. He has years of experience installing stairlifts across the UK. With an eagerness to help those with mobility issues get up the stairs, Neil understands how important it is for a seamless and straightforward approach to installing stairlifts to help those in need quickly.