Moving around your home with ease doesn't have to be an impossibility. Sometimes, it's an entire staircase that causes difficulties, and sometimes the problem is on a much smaller scale. At Halton Stairlifts, we love a challenge and no job is too big or too small. Even when it comes to fitting stairlifts for one step. 
We're often asked can stairlifts be fitted to any stairs? and with one of our latest installations, we proved that stairlifts really can be fitted to ANY stair.
STAIRLIFTS FOR ONE STEP
Our customer was finding that just a single ground floor step was slowing them down during the day.
Because the main living area was divided by a split-level room, stepping up and down the dividing step several times a day was presented as a tripping hazard and also caused significant discomfort.
They'd initially hesitated in contacting a stairlift supplier, as they did not believe a suitable solution could be found for such a small job. But after contacting Halton Stairlifts, they soon realised we could help with some creative engineering to help them move around their home a lot more easily.
The Installation
The customer required a compact straight stairlift, that could be folded away neatly when not in use. The team then got to work preparing a bespoke straight rail, the shortest we've ever made. Our engineers then positioned a discreet electrical socket within the step, to allow the stairlift battery to charge, so the lift is always ready for use.
Even though it may seem small to some, the step was causing the biggest problems for the resident. We were delighted to be able to make the biggest difference in their everyday life. Using our expertise and stairlift know-how, we were able to come up with a unique solution, tailored perfectly around the problem.
No staircase is too small for Halton Stairlifts. If you have a step that causes problems in your home, we can install a compact stairlift to help you make even the shortest of journeys. Call 0800 644 7766 for a virtual survey over the phone and a FREE no-obligation quote.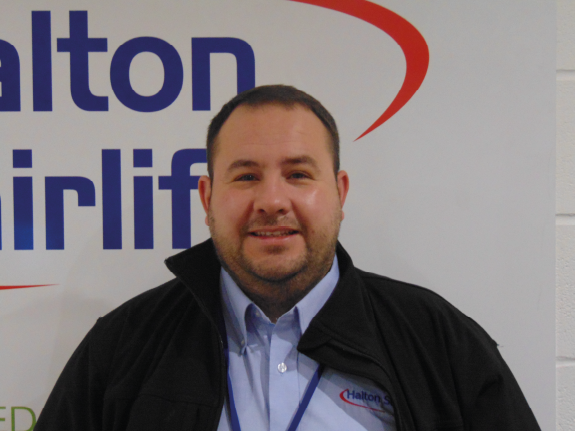 Neil is the founder of Halton Stairlifts. He has years of experience installing stairlifts across the UK. With an eagerness to help those with mobility issues get up the stairs, Neil understands how important it is for a seamless and straightforward approach to installing stairlifts to help those in need quickly.